Traveling to exciting countries, exchanging ideas with international colleagues or experiencing films and books in their original language - languages are fun.

Verena F. Birkenbihl was a bestselling author and one of the most successful management trainers in Germany. She was involved in language learning for over 20 years. She developed a method with which her countless students achieved astonishing successes.
The secret of her success:
Her method enables people to learn languages as our brains intended. Vera F. Birkenbihl calls this brain-friendly learning. The method is based on the same neuronal processes that small children use as they learn to talk.
The first step is to familiarize yourself with the meaning of a small passage of text. You listen to the foreign text several times and read a word-for-word translation in English at the same time.
Once you know all the words in the text, you can let your brain learn by running the text in the background.
By hearing texts in that language over and over again, the sound of the words embeds itself in your subconscious, just as it would if you were staying in the country concerned. Afterwards you learn the correct pronunciation with a minimum of practice time.
Advantages
Save time




No iron will required




Anywhere and anytime

Good pronunciation right from the start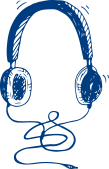 Learning to speak by listening - is that possible?
In many language schools, students start by speaking the foreign language, for example by reading or repeating loudly. This does not correspond to the learning process envisaged in the human brain.
We learn intuitively through imitation. Before a child learns to speak, it constantly hears other people talking. As a result, the brain builds up nerve pathways that enable the child to speak.
The same happens to adults when they are surrounded by a foreign language. Our brain begins to create new nerve pathways until we are ready to start speaking.
We imitate this through the passive listening step. You will quickly notice how easy it suddenly becomes for you to say the text with perfect pronunciation. Give it a try!
Learning a language without learning lists of words by rote - is that possible?
When you learn vocabulary by rote you don't even know the correct sound of many words. This can later lead to incorrect pronunciation. For Example, you may mispronounce the German word "zwei", e.g. [svay] instead of [tsvay]. Such errors can only be corrected later with great difficulty.
Learning individual words by rote makes learning unnecessarily difficult for our brain. It is much easier to learn if several words make a meaningful statement in context.
You therefore learn faster if you listen to whole sentences while at the same time reading the individual vocabulary word-for-word.
In this way you not only learn the meaning of the individual words, but automatically also the rules for how they are put together to form a sentence (grammar).
Frequently asked questions