Learn German online
Learn German online quickly and effectively with the Linguajet Mobile App and the innovative Birkenbihl method.
This way you can learn to speak German without having to study vocabulary and without any accent.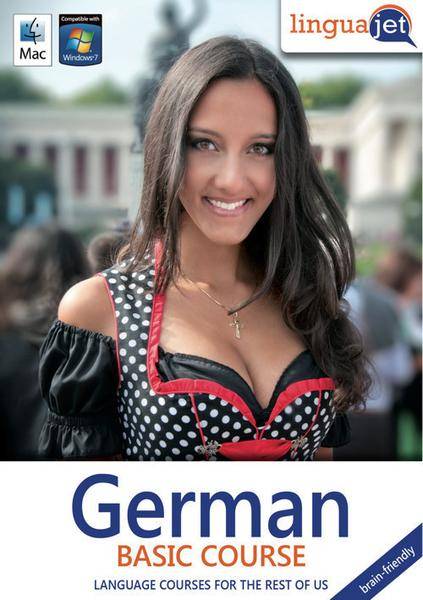 The basic course teaches you to communicate on a basic level in the foreign language.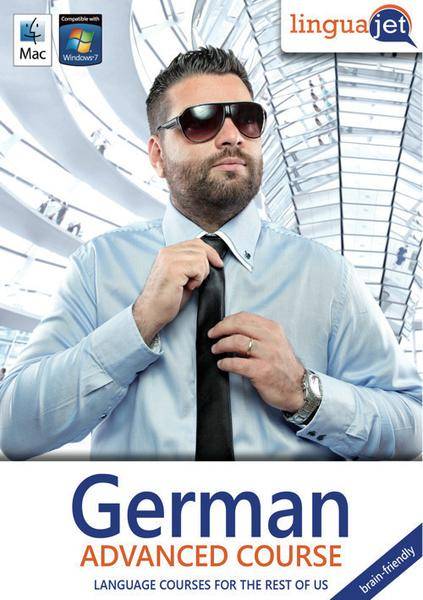 The advanced course teaches you to converse in a foreign language.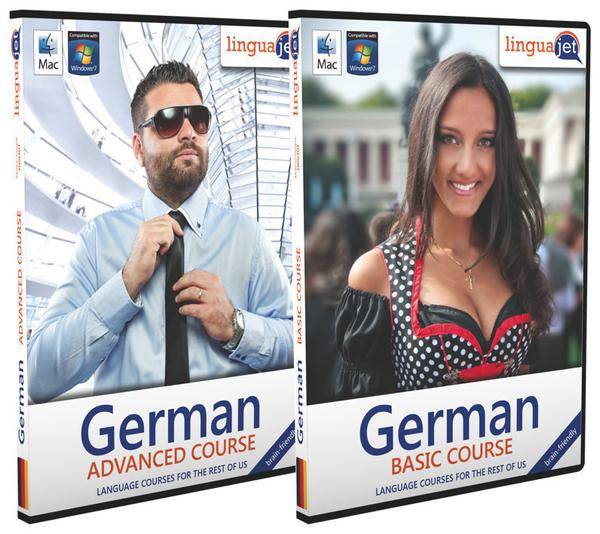 With the combination offer you keep going and save money.
Learn German - online to the language of beer and delicious bratwurst
Being at "October Fest" in Munich, climpbing over mountains in Switzerland or visiting Vienna the gorgeous capital of Austria German is a great advantage and very welcome in those three countries. Although pronunciation is hard for English mother-tongues, with Linguajet you'll get this going in no time!
Is it a long time since your German lessons at school? Do you nevertheless want to learn to speak this intriguing language, or at least refresh your knowledge?
There are many language courses, but most are very complex and hold little promise of success. Who wants to spend their precious free time studying vocabulary for hours and learning tedious grammar rules, which are usually hard to remember anyway?
In addition, they are not always close to home and often require
homework during the week. This is very difficult to reconcile with a normal working day - especially if you still want to spend time with family and friends.
If you are looking for a language course that takes very little time and promises better results than traditional courses, the German course of the Linguajet Mobile App is just right for you.
 
What is so special about Linguajet?
With Linguajet you can learn German and many other languages online. There are downloads for your computer or an app for your smartphone or tablet. The offer is aimed at beginners and advanced students.
What makes Linguajet special is the application of a brain-friendly learning method developed by the well-known motivation trainer Vera F. Birkenbihl. In contrast to most classical school approaches, learning methods that support the natural way of the human brain - namely learning intuitively and through imitation - are described as brain-friendly.
The Birkenbihl method
When Vera F. Birkenbihl was developing her method of learning, she looked at how man learns naturally. Our ancestors in prehistoric times learned mainly through imitation.
They observed their environment and when they thought a behavior was desirable, they imitated it. While adults and students today mostly learn in a very theoretical way, babies and toddlers still use intuitive imitation.
Before an infant begins to articulate sounds, it first listens to its environment for months. Some researchers even assume that this process begins in the mother's belly.
The disadvantage of conventional methods
Most language courses on the market are based on the learning methods of schools and universities. That means learning vocabulary and grammar rules by heart. Before you speak a language, you have to learn words from books you have never heard before.
These learning methods are very strenuous and lead only very slowly to success. It is quite natural that the motivation to learn decreases due to the stress of learning and lack of success. However, neurologists have long proven that a good motivation to learn is essential for successful learning.
According to Birkenbihl, the classical methods of learning a language are therefore contrary to brain-friendly learning. However, Linguajet takes a different approach.
Learn German in a brain-friendly way
While classical language lessons force you to approach a language theoretically, the Birkenbihl method puts the horse before the cart: The first step is to familiarize yourself with the German language in the most natural way possible by listening to everyday conversation situations.
Depending on how much experience you already have, Linguajet offers you specially designed course options for the different levels:
The basic course: With the basic version you start by mastering initial greetings and introductions. You learn important forms of politeness so that you hit the right note from the very first small talk. In addition, the Linguajet Basic Course gives you an extensive insight into the humorous differences as well as useful hints on the similarities of German with other language groups.
The advanced course: Have you already struck up a conversation? Now all you need is the right wine (or in this case, beer) for the perfect evening. To help you make the right choice, the Linguajet advanced course teaches you how to negotiate a restaurant situation with confidence and how to get a smile out of even the most stressed German waiter in a Beer-Garden. In addition, the module concentrates on giving you an additional insight into the theory of meaning and also illuminates the historical effects of the German herritage.
The decoding line
The decoding line is a word-for-word translation of the spoken German dialog. Of course, the aim of this unconventional translation is not a clean translation into English. Rather, it should make it possible for you to understand the content of the dialog right away - even without any previous knowledge.
This makes the language transparent for you right from the start. You will learn the meaning of words in different contexts even if these words have different meanings. There is no classical vocabulary learning and you learn grammar rules intuitively.
Active listening
While the video runs and a native speaker reads a text, the German words and the respective translation are highlighted synchronously in the program. You listen as you read the word-for-word translation.
This is called active listening. Repeat the text sections until you understand the words. You can slowly hide from the program those words whose meaning you have remembered.
When only the German subtitles are still visible, you can move on to the next step.
Passive listening
After you have internalized the meaning of the text, let the soundtrack run quietly in the background in a continuous loop. Meanwhile, you can go about your business.
The aim of this step is to create a soundscape that helps your brain to create the necessary nerves to speak speech without any accent. The same mechanisms are at work as when we learned our mother tongue as small children.
This happens without any additional effort on your behalf, because your subconscious perceives the sounds, and everything else happens "automatically", so to speak.
This technique promises fast results. Unlike a school or language course, where you are always surrounded by learners with incorrect pronunciation, you learn to speak quickly and correctly.
Minimum time - maximum effect
As you learn with Linguajet in a brain-based way, your first learning successes will soon follow. These are proven to activate the reward centers in the brain, which means the motivation to learn remains consistently high.
The learning units are divided into blocks of ten minutes. After each learning block, you should take a ten-minute break during which you can focus on something else. Subconsciously, humans continue to process what they have just learned for about seven minutes. In this way you learn particularly effectively and almost double your learning success.
Of course, the advantage of the short learning sessions is that they are easy to integrate into your everyday life. Whether in your lunch break or on the bus - you can use these times and keep your evenings free for your family. With the Linguaget Mobile App you can learn on the go and spontaneously. It only takes about six to ten days to speak the individual texts perfectly.
Just try it out
Linguajet provides you with a free learning sample for each language offered. Download them without obligation and let us convince you of the Birkenbihl method.
Make your language dream come true!
Learning languages has never been easier. Start now and see for yourself.